So far 2022 has been very tough for the global economy with the price and trading volume of majors assets such as stocks, crypto currencies, and even gold going south while inflation and energy prices keep on surging. It seems that fear of a major global recession is pushing some investors to look for alternative markets to achieve better yields in such bearish conditions.
This is the conclusion our Research Team at BestBrokers.com reached, after looking into Non-fungible Tokens (NFT) transaction data on the Blockchain. NFTs grew exponentially in popularity in 2021 with the number of NFT transactions exploding from 18K in January 2021 to 1.7M in December of the same year. This is an increase of almost 9500% and despite the fact that NFTs are closely-tied to the Blockchain and Cryptocurrencies, the trader interest does not seem to waive with the bearish trend. Quite the contrary – we are seeing transaction numbers for Q1 and Q2 2022 surpass the 11 million mark.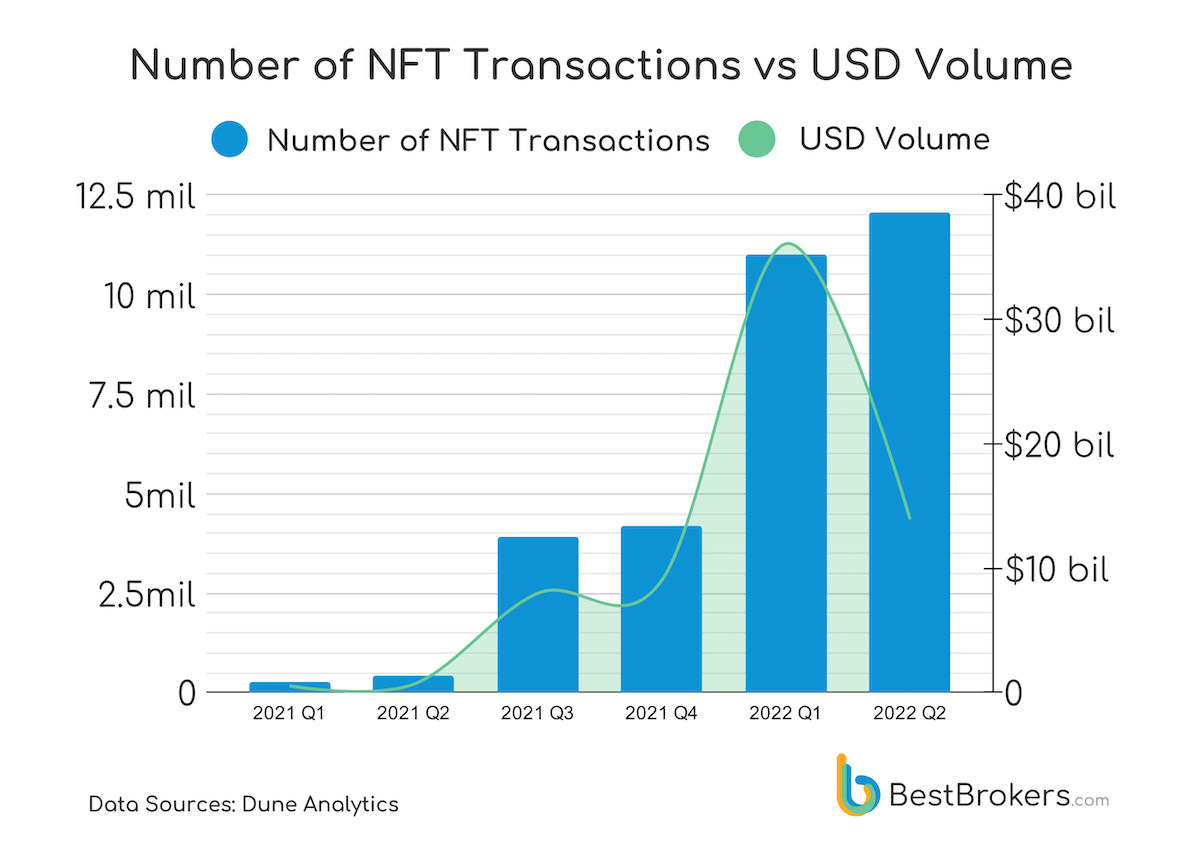 Q2 2022 saw record interest in NFT trading with total transactions across the main marketplaces* touching 12 million, 9% up from Q1 2022 and a massive 2,857% increase YoY. This jump comes together with the global markets plunge and shows bulls are looking for opportunities.
"Despite the lower prices of cryptocurrencies, NFTs still offer great opportunities for both long and short term trading. With the whole global economy going down in 2022, we see an enormous upsurge in the number of NFT transactions which means traders find it more appealing than the traditional assets in the current bear market. We should also keep in mind that most NFT's prices are in Ether or some other ERC-20 cryptocurrency and the dip is a great option for some investors to acquire Non-FungibleTokens at a very lucrative USD price."
Another factor affecting the massive NFT trading volumes is the fact that a lot of investors, who bought crypto currencies at much higher prices, refrain from closing their positions in the red. They rather prefer to find investment opportunities in alternative crypto assets that give them a better chance for profits.
"While a lot of analysts discuss crypto winter and a Bitcoin bear cycle, it is worth considering the fact that crypto assets are not alone in this suffering and they are likely to bounce back together with the other markets. Traders' interest shifting in some way to the NFT market only proves that the blockchain technology is here to stay and it should not be written off."
* Under "main marketplaces" we are referring to OpenSea, LooksRare, Rarible, SuperRare, LarvaLabs, and Foundation.