On 17 November Ledger announced a key partnership with Kiln which enabled users to stake ETH directly through Ledger Live. With the recent struggles of a number of crypto lenders and exchanges, Ledger makes a rather risky move which could turn out to be a winning one, keeping in mind the company's reputation.
The team at BestBrokers decided to run a query on raw blockchain data through Dune Analytics and have a look at the number of staked ETH through Ledger Live on a daily basis and compare it to Lido – the largest stakeholder as per our previous analysis. It turns out that the total staked Ether through Ledger Live for the period 17-30 November is 11,968 ETH or 38.20% of the amount staked through Lido for the same period.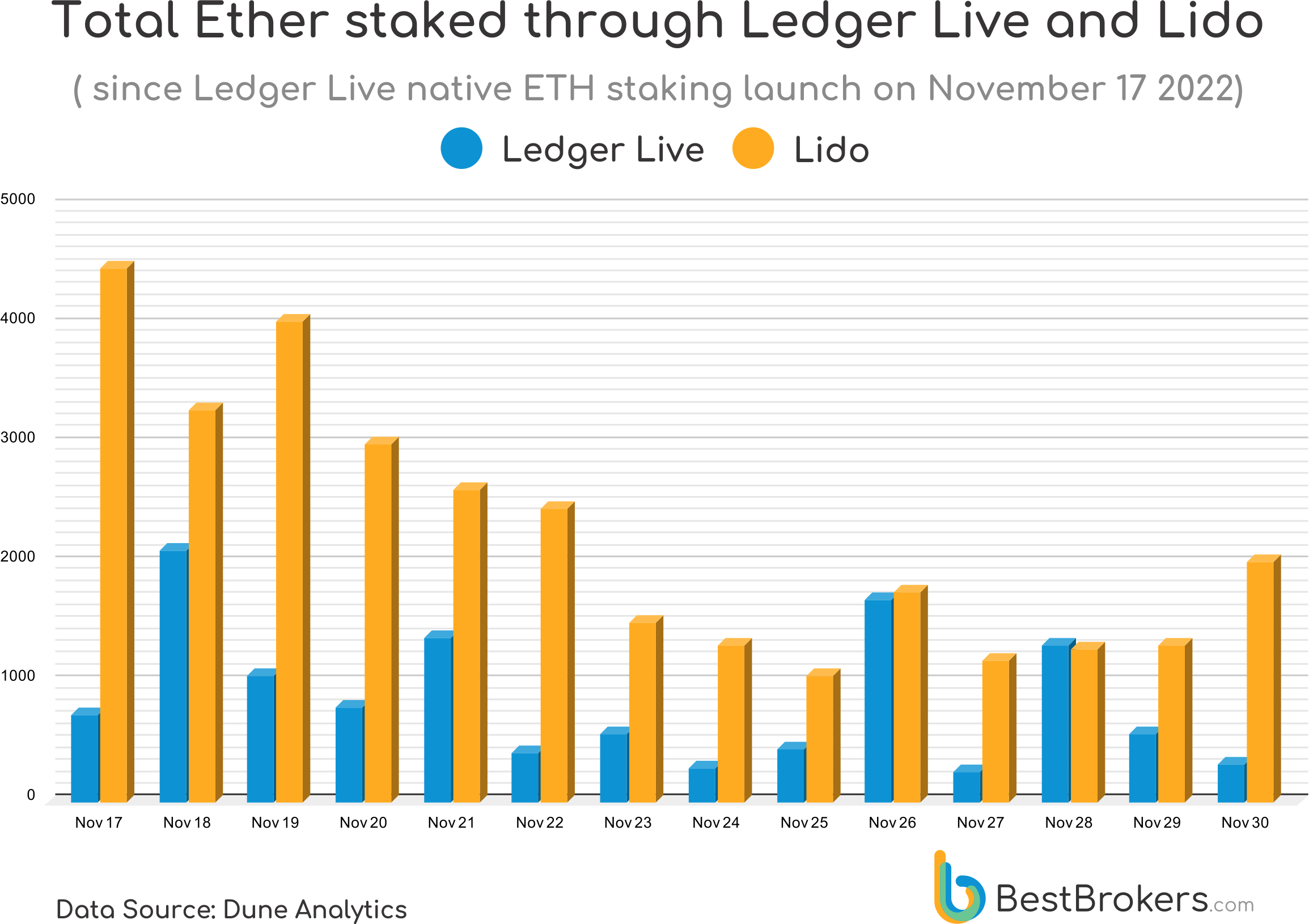 "Ledger is a well-known company among crypto users and, together with Trezor, are usually associated with 'safety' and 'high security'. I think this will play a big part when acquiring new users to stake their ETH through Ledger Live instead of the other big players like Lido, Coinbase, Binance, and Kraken. However, with the recent collapse of FTX and the collapse of major crypto lenders earlier this year, Ledger Live has a great opportunity to gain even more trust among the users who would like to stake their ETH."
Impressive APY offered, but there is a catch
Тhe APY offered by Kiln (~7.4%) is considerably higher than most of the other big staking platforms. However it is important to note that as of now, users can only stake ETH in multiples of 32, which is not suitable for small investors.
ETH Staking APY per platform as per 29.11.2022
| Platform | APY |
| --- | --- |
| Ledger Live (Kiln) | 7.40% |
| Coinbase | 6.85% |
| Binance | 6.00% |
| Lido | 5.50% |
| Kraken | 4-7% |
"The APY offered by Kiln looks great. Ledger adds additional trustworthiness. However, the need to stake a minimum of 32 ETH will push off a lot of investors. Also, everyone should do their own due diligence. As the crypto is not regulated yet, we have seen other big campaigns and partnerships collapse leaving their investors to bite the dust."